APPLICANTS WITHOUT API 653 CERTIFICATION WILL NOT BE CONSIDERED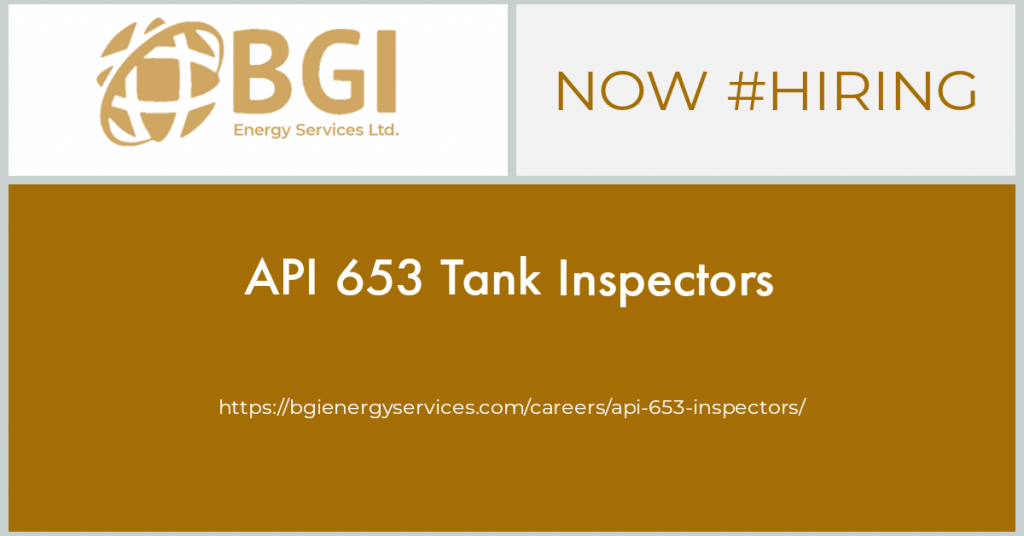 We are hiring API 653 Certified Inspectors for an upcoming project. Applicants must be experienced in Tank Inspections, have working knowledge of ASME codes and excellent attention to detail.
Minimum Requirements
To qualify, applicants must hold a current API 653 Certification and have API Inspection work experience.
Must be technically competent and knowledgeable in the application of the current inspection codes. Additional certifications desired, but not required are:
Current safety training (within the last 12 months) to include but not limited to confined space, fall protection, LOTO, etc.
Key Responsibilities / Essential Functions
Perform internal and external inspections to determine if it meets the acceptance criteria of a specific code, standard or document.
Properly interpret regulations, codes and industry standards.
Use a computer to compile and submit daily reports, inspection reports, and inter‐office communications.
Compile and submit completed inspection report in a timely manner.
Pay attention to detail and be capable of recommending and approving repairs as well as performing visual inspection of completed work.
Drive a vehicle safely in an oil and gas facility and field sites.
Be proficient with standard computer software and be able to write detailed inspection and reports while maintaining an organized system of files.
Maintain a positive relationship between client, facility and customer; and promote a positive attitude towards coworkers.
Ensure that all BGI and client safety policies and procedures are followed.
Required Education / Experience / Certificates and Licenses
Current American Petroleum Institute (API) API‐653 certification, working knowledge of NDE methodologies and an engineering or physical science degree..
Proficient in Microsoft Office applications and the inclusion of digital photographs for use in repair recommendations and reporting is required.
Self‐motivated with good written and verbal communication skills with a positive team‐oriented attitude is required.
Documentation of work experience.
Demonstrable understanding and application of ASME standards.
Job Category:
API Inspector
Job Location:
Delta State